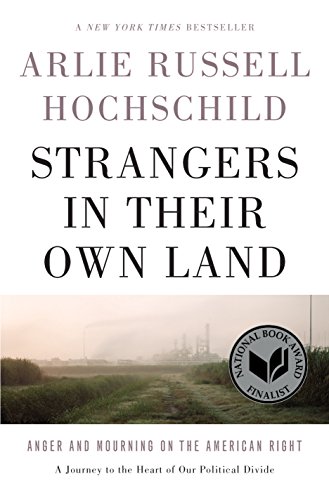 A review of Strangers in Their Own Land:
Anger and Mourning on the American Right
(Authors: Arlie Russell Hochschild)
Having the goal of creating a "bipartisan" online educational resource that non-degreed adults will want to visit, my intuition has been that ordinary conservatives will be warier than ordinary liberals. And that it often may not be effective to appeal to such conservatives with rational arguments, data, and expert opinion. This book tends to confirm my fears.
Via a huge number of interviews with (mostly) Tea Party conservatives in Louisiana from 2010 to 2014, sociologist Arlie Russell Hochschild put together the "deep story" that articulates how these citizens see the world and their place in it. In a nutshell, it revolves around the idea of "cutting in line": they have been enduring and working for the American Dream, but if anything they've been backsliding, while other groups—minorities, civil servants, women, and so forth—have been cutting in line ahead of them. They don't think anyone (including themselves) should be getting handouts, and they put the blame squarely on a bloated federal government that doesn't share their values. Hochschild summarizes: